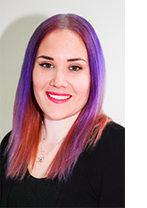 JESSICA CRAIG is Hugo Halliday's Director. She returned to HH in 2016 after having previously worked for our organisation as a New Media and Design Consultant.
As the Director, Jessica heads up the day-to-day management of Hugo Halliday and works alongside Managing Director, Bill Pickering to bring results driven services to our clients.
Jessica Craig has a Bachelor of Arts from the University of Western Sydney and a Masters of Public Relations and Advertising from the University of New South Wales.
Jessica is a savvy communicator with graphic design skills and a passion for delivering client-centric services. She has worked for non-profits such as Animal Welfare League NSW and CORE Community Services and has a passion for non-profit marketing and assisting altruistic organisations.
Jessica has been part of a number of state and national PR campaigns and is skilled at developing strategies and plans to get the most out of online and offline PR and marketing efforts.